Polymorphism which is common in active pharmaceutical ingredients (APIs), is the ability of a substance crystallization into more than two crystalline forms.
Polymorphism in Pharmaceutical Solids (Drugs and the pharmaceutical sciences), 2nd ed.; Brittain, H. G., Ed.; Informa Healthcare: New York, 2009.

Hao

,

H.

;

Barrett

,

M.

;

Hu

,

Y.

;

Su

,

W.

;

Ferguson

,

S.

;

Wood

,

B.

The Use of in Situ Tools To Monitor the Enantiotropic Transformation of p-Aminobenzoic Acid Polymorphs

Org. Process Res. Dev.

2012

,

16

(

1

)

35

–

41

,

DOI: 10.1021/op200141z
For the different arrangements in crystal lattices, different polymorphs of APIs have various stability, solubility, and bioavailability.
Butterhof

,

C.

;

Martin

,

T.

;

Ectors

,

P.

;

Zahn

,

D.

;

Niemietz

,

P.

;

Senker

,

J.

Thermoanalytical Evidence of Metastable Molecular Defects in Form I of Benzamide

Cryst. Growth Des.

2012

,

12

(

11

)

5365

–

5372

,

DOI: 10.1021/cg3009706

Delaney

,

S. P.

;

Pan

,

D.

;

Galella

,

M.

;

Yin

,

S. X.

;

Korter

,

T. M.

Understanding the Origins of Conformational Disorder in the Crystalline Polymorphs of Irbesartan

Cryst. Growth Des.

2012

,

12

(

10

)

5017

–

5024

,

DOI: 10.1021/cg300977e

Su

,

W.

;

Hao

,

H.

;

Glennon

,

B.

;

Barrett

,

M.

Spontaneous Polymorphic Nucleation ofd-Mannitol in Aqueous Solution Monitored with Raman Spectroscopy and FBRM

Cryst. Growth Des.

2013

,

13

(

12

)

5179

–

5187

,

DOI: 10.1021/cg400304c
Generally, the thermodynamic stable crystal form would be selected for formulation. However, the thermodynamic metastable crystal with better solubility and bioavailability, would also be adopted for the pharmaceutical preparation.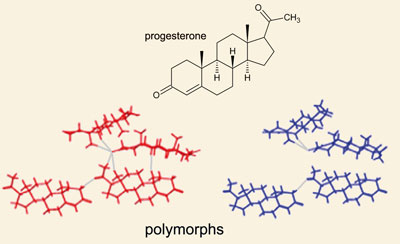 Process analytical technology (PAT) is an efficient tool to monitor the polymorphic transformation process. Brian O'Sullivan and co-workerscombined the focused beam reflectance measurement (FBRM) probe and the react infrared (react IR) probe to monitor the polymorphic transformation process of
d
-mannitol.
Herman

,

C.

;

Haut

,

B.

;

Douieb

,

S.

;

Larcy

,

A.

;

Vermylen

,

V.

;

Leyssens

,

T.

Use of in Situ Raman, FBRM, and ATR-FTIR Probes for the Understanding of the Solvent-Mediated Polymorphic Transformation of II–I Etiracetam in Methanol

Org. Process Res. Dev.

2012

,

16

(

1

)

49

–

56

,

DOI: 10.1021/op200168g

Jia, C.-Y.; Yin, Q.-X.; Zhang, M.-J.; Wang, J.-K.; Shen, Z.-H.Polymorphic Transformation of Pravastatin Sodium Monitored Using Combined Online FBRM and PVM Org. Process Res. Dev. 2008, 12 ( 6) 1223–1228, DOI: 10.1021/op8001257

Takeguchi

,

K.

;

Obitsu

,

K.

;

Hirasawa

,

S.

;

Orii

,

R.

;

Ieda

,

S.

;

Okada

,

M.

Effect of Temperature and Solvent of Solvent-Mediated Polymorph Transformation on ASP3026 Polymorphs and Scale-up

Org. Process Res. Dev.

2016

,

20

(

5

)

970

–

976

,

DOI: 10.1021/acs.oprd.6b00068

Howard

,

K. S.

;

Nagy

,

Z. K.

;

Saha

,

B.

;

Robertson

,

A. L.

;

Steele

,

G.

;

Martin

,

D.

A Process Analytical Technology Based Investigation of the Polymorphic Transformations during the Antisolvent Crystallization of Sodium Benzoate from IPA/Water Mixture

Cryst. Growth Des.

2009

,

9

(

9

)

3964

–

3975

,

DOI: 10.1021/cg900108e
Flexible carbon chains with a polar or heterocyclic endgroup often occur in modern drugs and give conformational flexibility but also additional hydrogen bonding possibilities (with the headgroup). However, it is fair to say that several older drugs (e.g., chlorpromazine) were also of this type.
Of course, it could be that chemists are much more aware of polymorphism and solvation issues and thus are looking out for potential problems as well as getting involved with projects at an earlier stage. Thus, preliminary screening for polymorphs can, in some companies, occur before candidate selection. Also, the tools for screening for crystal forms have improved, with more automation meaning that the number of experiments carried out is increased, thus ensuring that, as far as is possible, all forms are detected in the screening process (though this will depend on a number of factors including the quality, particularly the number and level of key impurities, of the sample of API used in the testing).
It is clear that an understanding of crystallisation and polymorphism must be part of the skills of the organic development chemist (as well as the chemical engineer who is often taught these topics at undergraduate level) and that specialist training is required to bring organic chemists up-to-speed with current advances and knowledge. Development chemists love to tinker with the chemistry but must be made aware of the possibility of changing the crystal form of the product (API or intermediate) when they do. Whereas obtaining a new, more stable crystalline form of an intermediate is usually good news (since the lower solubility may allow a yield increase in the crystallisation stage), a more stable form of an API may be a mixed blessing, depending on how far the project is in development.
The crucial need for exploring solid-state properties is commonly recognized in the pharmaceutical industry.
Henck

,

J.-O.

;

Byrn

,

S. R.

Drug Discovery Today

2007

,

12

,

189

–

199

Byrn

,

S. R.

;

Zografi

,

G.

;

Chen

,

X.

J. Pharm. Sci.

2010

,

99

,

3665

–

3675

Palucki

,

M.

;

Higgins

,

J. D.

;

Kwong

,

E.

;

Templeton

,

A. C.

J. Med. Chem.

2010

,

53

,

5897

–

5905

Gibson

,

M.

Early Drug Development: Product Design

. In

Pharmaceutical Preformulation and Formulation

;

Gibson

,

M.

, Ed.;

Interfarm/CRC

:

London, New York, WA

,

2004

.
Ideally, the in vivo efficiency, pharmacokinetics, and toxicology studies should be performed with the drug candidates that exhibit optimal solid-state properties. As indicated by Huang and Tong. the most appropriate time for finding a suitable solid form is during the lead identification (LI) and lead optimization (LO) phases of the drug discovery process. At the later stages, the developability assessment criteria for new drug candidates are applied to identify the potential challenges and even project "stoppers" of the drug development.
Huang

,

L.-F.

;

Tong

,

W.-Q.

Adv. Drug Delivery Rev.

2004

,

56

,

321

–

334

Bernstein

,

J.

Cryst. Growth Des.

2011

,

11

,

632

–

650

Balbach

,

S.

;

Korn

,

C.

Int. J. Pharm.

2004

,

275

,

1

–

12
These criteria are typically set to solubility and dissolution, hygroscopicity, stability, and synthesis process scalability of the chosen solid-state form. Estimation of scalability of the synthesis process and physical stability includes evaluation of the tendency of a new chemical entity to crystallize in different crystal forms, investigation of thermodynamic relationship between polymorphs and solvates as well as relative stability of possible solid forms at ambient conditions.
A key element of the strategy to reduce the time required for preclinical development is to link solid-form discovery with formulation, formulation design, and manufacturing.
(1)
According to Byrn et al., the most efficient way to speed up new drug development is by means of accelerating the process of 'proof-of-concept' (POC). Specifically, this acceleration can be achieved by performing the best solid-form screenings as soon as the candidate has been selected. Knowledge about the
polymorphism
and solvatomorphism tendency and solid-state properties of the new candidate is of great importance for screening facilitation.
The
polymorphism
and solvatomorphism tendency has been the subject of numerous investigations. It is traditionally studied through crystallization from various solvents using diverse temperature profiles and concentrations, as well as by applying an additional thermal, pressure, or mechanical treatment. Due to a limited amount of substance available at the early discovery phases, most screening methodologies were adapted for using small-scale crystallization volumes and miniaturized analysis techniques. As a result, in all these approaches designed for the early discovery phase, the crystallization conditions differ significantly from those used in ordinary organic synthesis processes. First, the crystallization experiments are performed in very small (microliter scale) volumes, and second, they typically do not involve any real synthesis. These small-volume approaches have a tendency to produce metastable and amorphous forms, as well as the mixtures of them. As a result of which the most stable form can remain undiscovered. Consequently, there is a practical need for development cost-effective
polymorphism
and solvatomorphism tendency evaluation approaches directed on discovery of the stable solid form at ambient conditions.
In this context, we have chosen a rational approach for the fast initial
polymorphism
and solvatomorphism tendency evaluation tendency evaluation at the very beginning of the discovery process. The systematic examination of solid state properties of sequentially synthesized batches is merged with synthesis process optimization thus enabling assessment of
polymorphism
and solvatomorphism tendency on the real process scale. This approach is schematically presented in Figure
1
. Briefly, the physical characterization of each fresh batch of a new substance is performed by means of standard methods, X-ray powder diffraction (XRPD), differential scanning calorimetry (DSC), and thermal gravimetric analysis (TGA). Simultaneously, in order to evaluate the physical stability at high relative humidity, every single batch is analyzed by the gravimetric vapor sorption (GVS) method combined with XRPD and TGA analysis performed before and after GVS. The final crystallization step of the synthesis is adjusted until a stable solid form can be reproducibly crystallized.
Byrn, S. R.; Pfeiffer, R. R.; Stowell, J. G. Solid-State Chemistry of Drugs; SSCI Inc: West Lafayette, 1999.

Vippagunta, S. R.; Brittain, H. G.; Grant, D. J. W. Adv. Drug Delivery Rev. 2001, 48, 3– 26

Almarsson

,

O.

;

Hickey

,

M. B.

;

Peterson

,

M. L.

;

Morissette

,

S. L.

;

Soukasene

,

S.

;

McNulty

,

C.

;

Tawa

,

M.

;

MacPhee

,

J. M.

;

Remenar

,

J. F.

Cryst. Growth Des.

2003

,

927

–

933

Brittain

,

H. G.

J. Pharm. Sci.

2007

,

96

,

705

–

728

Hilfiker, R. Polymorphism in the Pharmaceutical Industry; Wiley-VCH, Verlag GmbH: Weinheim, 2006.

Descamps

,

M.

;

Willart

,

J. F.

;

Dudognon

,

E.

;

Caron

,

V.

J. Pharm. Sci.

2007

,

96

,

1398

–

1407

Nangia

,

A.

Acc. Chem. Res.

2008

,

41

,

595

–

604

Aaltonen

,

J.

;

Alleso

,

M.

;

Mirza

,

S.

;

Koradia

,

V.

;

Gordon

,

K. C.

;

Rantanen

,

J.

Eur. J. Pharm. Biopharm.

2009

,

71

,

23

–

37

Brittain, H. G. Polymorphism in Pharmaceutical Solids; Marcel Dekker Inc.: New York, 2009.

Gardner

,

C. R.

;

Almarsson

,

O.

;

Chen

,

H.

;

Morissette

,

S.

;

Peterson

,

M.

;

Zhang

,

Z.

;

Wang

,

S.

;

Lemmo

,

A.

;

Gonzalez-Zugasti

,

J.

;

Monagle

,

J.

;

Marchionna

,

J.

;

Ellis

,

S.

;

McNulty

,

C.

;

Johnson

,

A.

;

Levinson

,

D.

;

Cima

,

M.

Comput. Chem. Eng.

2004

,

28

,

943

–

953

Morissette

,

S. L.

;

Almarsson

,

O.

;

Peterson

,

M. L.

;

Remenar

,

J. F.

;

Read

,

M. J.

;

Lemmo

,

A. V.

;

Ellis

,

S.

;

Cima

,

M. J.

;

Gardner

,

C. R.

Adv. Drug Delivery Rev.

2004

,

56

,

275

–

300

Aaltonen

,

J.

;

Strachan

,

C. J.

;

Poellaenen

,

K.

;

Yliruusi

,

J.

;

Rantanen

,

J.

J. Pharm. Biomed. Anal.

2007

,

44

,

477

–

483
New Drugs
The US Food and Drug Administration (FDA) require submitters of an Investigational New Drug Application (INDA – new drug) to submit polymorph information.
New Generic Drugs
The US FDA requires submitters of an Abbreviated New Drug Application (ANDA – new generic) that they must include a polymorphism study in order to demonstrate equivalence.
In addition, the International Conference on Harmonisation of Technical Requirements of Pharmaceuticals for Human Use (ICH harmonised Tripartite Guideline) ICHQ6A states that the following is required: Evidence that polymorphism is or is not exhibited by a new drug substance. If polymorphism is exhibited, whether the different polymorphic forms can affect performance of the drug product, and what the potential for change is and how it might be controlled.
Drug Development
"Polymorphic forms of a drug substance can have different chemical and physical properties, including melting point, chemical reactivity, apparent solubility, dissolution rate, optical and mechanical properties, vapour pressure, and density. These properties can have a direct effect on the ability to process and/or manufacture the drug substance and the drug product, as well as on drug product stability, dissolution, and bioavailability. Thus, polymorphism can affect the quality, safety, and efficacy of the drug product." [FDA guidelines]. In simple visual terms, the following scheme shows how to envisage polymorphism. The Drug Substance is shown as a rectangle which can pack together in a crystal in different arrangements. Each separate arrangement is a different polymorphic form. It is believed that 50-80% of all Drug Substances exist in at least 2 polymorphic forms
Polymorph A
Polymorph B
Each stage in drug development gets increasingly more complex. After finding a potential hit in a screen, the early drug development phase of 'hit to lead' follows. This 'lead' drug is then optimised and prepared for pre-clinical evaluation. Drug development during the pre-clinical phase is designed to determine a drug's safety profile and prepare the drug for use in clinical trials. During drug development, an initial scouting polymorph screen is designed to find a stable non-solvated form with good properties. Phase 1 clinical trials are the first time during pharmaceutical development that the drug is used in humans to test safety and tolerability. Larger Clinical Phase 2 studies assess how well the drug works. This is followed by Clinical Phase 3 trials, the most expensive of all, to assess drug effectiveness. Phase 3 drug development work includes a comprehensive polymorph screen find as many forms as possible in order to exhaustively cover the Intellectual Property space. Continuous monitoring of the polymorphic form is needed throughout the whole drug development process in order to ensure consistent manufacture of the specified polymorph
Analytical techniques are powerful tools employed during drug development: X-ray powder diffraction is used to provide unequivocal proof of polymorphism. Other methods, including Thermal Analysis; Differential Scanning Calorimetry (DSC), Thermal Gravimetric Analysis (TGA), Hot-Stage Microscopy (HSM) and Raman spectroscopy are useful to further characterise polymorphic forms.
The consequences of Abbott Laboratories' antiretroviral drug Ritonavir, used to treat HIV infection and AIDS and problems with polymorphism has yet to be universally understood. Avoiding action has not yet widely been taken on polymorphism by the global pharmaceutical industry, so it is worth repeating the story.
In 1996 Abbott launched on the market an effective protease inhibitor Norvir® that had cost the company in excess of $200 million to develop. The drug was formulated as an encapsulated ethanol/water solution. In the summer of 1998, supplies of the drug were interrupted by the appearance of a new crystal form (polymorphism) at a plant in the USA and then later at a plant in Italy. This new, more thermodynamically stable polymorphic form had very different physical properties than the earlier material and Abbott was forced to withdraw the drug from sale. The new form failed dissolution tests and precipitated out within the capsules. The company lost an estimated $250 million in sales as well as hundreds of millions of dollars trying to recover the original polymorph while the product was off the market. No doubt many AIDS sufferers were not helped by the product's absence. What appeared to have happened was that a degradation product obtained during manufacturing had initiated the appearance of a second crystalline form, a second polymorph.
So what is polymorphism? It is simply a different arrangement a molecule might adopt in a crystal. Most drug molecules are crystalline. That is, the molecules pack together in a particular regular way. Some molecules, perhaps most, are able to pack together in more than one way and thus give rise to different polymorphs. A pair of polymorphs might have very different physical properties. Over 50% of all Active Pharmaceutical Ingredients (APIs) exist in at least 2 polymorphic forms.
During drug development, an initial scouting polymorphism screen is designed to find a stable non-solvated form with good properties. A later comprehensive polymorphism screen is to find as many forms as possible in order to exhaustively cover the Intellectual Property space. Continuous monitoring is needed throughout development in order to ensure continued control of polymorphism.
What can cause polymorphism changes? Crystallisation from different solvents may give rise to different crystal forms or solvates. Extremes of humidity or heat are among the more obvious factors affecting polymorphism. Changes in polymorphism can also be induced as a consequence of several common stages of API processing such as granulation, melting, spray drying, compression and milling that are required to produce the final dosage form.
X-Ray Powder diffraction and Raman spectroscopy are the two workhorse methods used to evaluate the presence and amount of different polymorphic forms found during screening. Differential Scanning Calorimetry (DSC), Differential Thermal Analysis (DTA), Dynamic Vapour Sorption (DVS) and hot stage microscopy are additional specialised techniques used to characterise different polymorphic forms.
All is not doom and gloom as the polymorphism properties of a chemical substance are patentable. A new polymorphic form therefore may be used to extend the patent life of a drug. A counter to this is that a new polymorphic form with advantageous properties may be able to supersede an existing drug and effectively 'bust' the original patent.
It's not surprising to learn that manufacturers & developers of generic drugs actively pursue new polymorphic forms of patented drug substances. This can be a highly litigious area.
National regulatory authorities require that all companies register the precise polymorph of any new drug. Moreover, manufacturers need to demonstrate that each polymorph is stable and can be reliably reproduced
Many small pharmaceutical companies do not intend taking their drug candidates all the way to commercialisation themselves but to seek to license at an earlier stage. This arises because of the considerable increase in costs as a drug moves through the clinic. If a polymorph screen is also included then the package is certainly stronger and the licensor can expect a further premium.
During pre-clinical development the quantity of an API that is available for studies is usually very low. Screening a wide variety of solvents and conditions needs to be conducted for that reason on a very small scale. Systems that can handle multiple experiments at the milligram scale are best. At some labs automated systems can handle up to 96 well plate formats and conduct experiments at 0.5-2mg scale. Thus the total amount of API used for an initial screen can be a modest 50-200mg.
Typically, a salt selection project will precede a polymorphism study: once a salt is found that has the most promising properties, it will be further developed, characterised and might be the subject of a further polymorphism screen during the normal course of pre-clinical development.
Polymorphism, in addition to complicating drug development also aids drug efficacy and can ensure that any hard earned work is justifiably rewarded.
In the current economic climate more and more pharmaceutical companies are recognising the need to optimise the physical form of their new candidate drugs and try to ensure that they maximise their intellectual property (IP) at the same time. The polymorphic form of a solid substance, including most drugs, is patentable and it is theoretically possible to find a new polymorphic form of an existing drug and patent it. If the new polymorphic form has advantageous properties over the existing product on the market, it can, in principle supersede the earlier product. Moreover, if a new polymorphic form suddenly appears (it does happen), it may have properties that are inconsistent with its current formulation. One polymorphic form may be more biologically available than its predecessor or it may be less biologically available. Either way, a lot of money may have been wasted developing a particular polymorph. Recent examples show that it can be very costly if the physical form is not controlled but the pharmaceutical industry has not yet fully embraced this aspect of drug development.
So what is polymorphism? It is simply a different arrangement a molecule might adopt in a crystal. Most drug molecules are crystalline. That is, the molecules pack together in a particular 3 dimensional way. Some molecules, perhaps most, are able to pack together in more than one way and give rise to different polymorphs. A pair of polymorphs might have very different physical properties. It is the skill of the chemist, employed during the process development of the drug, that ensures the desired polymorph is consistently made. Another type of chemist, employed to research the possible variations on polymorphism, could also be extremely effective in ensuring that all bases are covered from an IP perspective.
These days, we all need to keep an eye on the bottom line. Perhaps if your company was to cast an eye over the other lines as well and make use of specialists inpolymorphism to do this research for you, you wouldn't have to worry so much about your future prospects!
New Polymorphic Form
The vast majority of countries do not present a specific mention in the Law for polymorphic form patent application, but still many patents are granted. The polymorphic forms are expressly regulated in India, as long as patentability requirements are met and efficiency is increased.
Both second medical use and new polymorphic forms are currently patentable according to Law, evaluating the novelty and inventive activity in Brazil; however, the guidelines were not clear. A guideline proposal for the evaluation of patent application for new polymorphic forms is being prepared.
Guideline Proposal for the Evaluation of new polymorphic forms

– Definitions were established for: polymorphism, crystalline and amorphous forms, medicine, pharmaceutical composition, pharmaceutical formulation, adjuvant, excipient and monocrystal.

– It is indispensable that the descriptive report has the necessary characteristics to the complete description of new polymorphic forms, according to technologies inherent to its perfect characterization, such as the following examples, or validated alternative techniques that best identify them:

a) Single-crystal X-ray diffraction (monocrystal XRD);
b) X-Ray Powder Diffraction Method; (XRD Powder Method);
c) Solid-state carbon-13 nuclear magnetic resonance spectroscopy (NMR-13C)
d) Infrared Spectroscopy;
e) Raman Spectroscopy;
f) Electronic Microscopy (hot stage);
g) Thermal Analysis: Differential Scanning Calorimetry (DSC), Thermogravimetric Analysis (ATG) and Differential Thermal Analysis (DTA).

– In case of a monocrystal of the chemical substance, the XRD technique of single crystal is sufficient for the prefect characterization of the crystalline structure.

In case of absence of monocrystal of the chemical substance, the X-Ray Powder Diffraction Method technique with indexing must be used, that is, the Miller index of the interplanar distances, the Bragg angles and the relative intensities of at least 20 reflections must be presented, in addition to the unitary cell parameters.

– If the indexing is not presented, the presentation of the other described parameters is necessary, and also the complementation of the X-Ray Powder Diffraction Method with other analysis methods (minimum of 2), in addition to the proof of sample purity.

The analysis technique used for the determination of the chemical substanceand its purity level pharmaceutically acceptable must be informed, since sample impurities may cause interferences in the quality of the characterization analysis results of the crystalline structure.

The inventive activity of a polymorphic form shall be checked by verification of an effect solving a problem of the prior art that is sufficiently differentiating, for instance: stability increase, apparent solubility and processability.

Pharmaceutical Composition of the Polymorphic Form
A composition is a grouping of ingredients for a certain purpose. The composition presents a novelty when one of the constituents is a crystalline form different from the one disclosed in the prior art.
The inventive activity to be presented by the composition containing the new polymorphic form, there must be an evaluation of the differentiated effect authentically solving a technical problem, based on its giving special attention to comparative specific parameters in relation to the prior art, the proof of its physical and chemical stability for its industrial use.

Process for Obtaining the Polymorphic Form
The process must be new, inventive and clearly described in order to allow the reproducibility by a person skilled in the art.

Parameters as exemplified below, or alternative parameters best describing such process, must disclose the following:
a) concentrations of the different solutions used, which are critical to the process;
b) solvents;
c) cooling rate;
d) time;
e) temperature of the different stages of the process;
f) torque or addition of seeds of the desired crystalline form. The seed preparation process must also be clearly and sufficiently described in the application when the crystallization process is developed with seeding.

The same criteria are applied to the pharmaceutical and medication formulation, repressing it.

Process for Obtaining the Pharmaceutical Composition

The process for obtaining a pharmaceutical composition containing a new polymorphic form is new. The inventive activity shall be evaluated whenever it is not evidently originating from the prior art (for the person skilled in the art).
As new polymorphic forms may disclose different physical and mechanic properties, including particle size, density, hardness, outflow and compactness, they may have sufficiently differentiated characteristics solving a problem of the prior art, which may bring an inventive activity requisite to the obtaining process of the pharmaceutical composition.

The same criteria apply to the process for obtaining the pharmaceutical and medication formulation.

CASE STUDY

Polymorphism

Acetazolamide (ACZ)

Acetazolamide is used mainly in treatment of glaucoma. It is also used as an antiepileptic and anti diuretic agent. It is formulated as tablets, capsules (for extended release) and injection. It is commercially available as Diamox.

Figure 3: The structure of Acetazolamide (Jenniffer I. Arenas-Garcı´a et al.2010)

The above fig 3 shows the structure of acetazolamide. It has two known polymorphic forms (Form A and B). Form A being the more stable form than form B. Acetazolamide has low solubility and permeability. Hence efforts are being made to form and identify new co- crystals forms of the drug (Jenniffer I. Arenas-Garcı´a et al.2010). Co crystals were made by using four different techniques. Co crystals were prepared by using Solvent drop grinding experiments. Out of 20 Co crystal former used 4-Hydroxybenzoic Acid and Nicotinamide were found to form stable co crystals with acetazolamide. Co crystals formed were characterized using XRPD, IR spectroscopy, DSC and TGA techniques.

Figure 4: Crystals of acetazolamide (ACZ) and the corresponding co-crystal with 4-hydroxybenzoic acid (ACZ-4HBA) can be distinguished by their different shapes (Jenniffer I. Arenas-Garcı´a et al.2010).

Co crystal phase stability was carried out to check whether the co crystals formed convert to the parent compound ie.ACZ. The co crystals were exposed to water at various physiological pH values. The co crystal formed by ACZ with nicotinamide transformed to ACZ and this was time and pH dependent while co crystal with 4 -hydroxybenzoic acid didn't transform into ACZ.

Figure 5: Molecular conformations of ACZ in the crystal structures of ACZ form A,9a,d AC form B,9c ACZ-4HBA, and ACZNA- H2O. N4-S2-C1-S1 torsion angles are indicated (Jenniffer I. Arenas-Garcı´a et al.2010).

Figure 5 gives the molecular conformation of the available polymorphs of ACZ and the two new co crystals formed. These structural details demonstrate that ACZ possesses two potential sites for the formation of doublebridged homo- and heterosynthons, the carboxamidine (C(N)NH) group on the thiadiazole acetamide fragment and the sulfonamide group(Jenniffer I. Arenas-Garcı´a et al.2010).

Thus the co crystals formed were stable enough at ambient temperature. However this study fails to compare the solubility and permeability of co crystals with ACZ.

Paracetamol

Figure 6 : The Structure of paracetamol (Zimmermann B et al. 2010)

Paracetamol is used as an antipyretic and analgesic. Commercially it is available as tablets, capsules, solutions, suspensions etc. Paracetamol has three known polymorphic form viz. Monoclinic (Form I), Orthorhombic (Form II) and a third instable form III. Efforts were made in characterising form III with use of rapid heating DSC and HPMC (crystal growth modifier) (S. Gaisford. et.al. 2010). Thermal analysis of the polymorphs was carried out using FT-IR spectroscopies (Zimmermann B et al. 2010). Form II is the commercially available form of paracetamol. However form I has a stiffer arrangements in the crystal lattice compared to the orthorhombic metastable form II. Hence form I shows poor compression ability. (Etienne Joiris et.al.1998) Although form II shows better compression ability compared to form I but still form I is preferred as API. This is due to then stability issues related with form II. The stability of the form II varies with alteration in temperature and humidity. Hence, the stability issue prompts the manufacturer to liken form I. Efforts should be made to make form II more stable under ambient temperature and humidity.

Itraconazole

Figure 7: The Structure of Itraconazole (Julius F. Remenar et al.2003)

Itraconazole (Fig 7) is an antimicrobial agent. It is commercially used for treatment of onychomychosis. The main disadvantage for this drug is its solubility. It is a poorly soluble drug. Hence attempts were made to form a co crystal of the drug which will increase the solubility of the drug. Amorphous state of the drug has a greater solubility than the crystalline form but the amorphous form is less stable and degrades quickly in presence of humidity and temperature. Hence in one such attempt a co crystal of itraconazole was prepared using 1,4-dicarboxylic acids (Julius F. Remenar et al.2003). A trimeric co crystal was prepared with itraconazole atoms at the two ends of the dicarboxylic acid (Succinic acid).

Figure 8:Dissolution profile of itraconazole

From the fig 8 we can conclude that the co crystal with malic acid matches the solubility that of the amorphous itraconazole (Julius F. Remenar et al.2003). Thus this study suggests that it is possible to have a form which matches the bioavailability of the amorphous form but has the physical and chemical stability of the crystalline form.

Fluoxetine

Figure 9:Co crystal of Fluoxetine – Succinic acid (Scott L. Childs et al. 2004)

Fluoxetine is a selective serotonin reuptake inhibitor. It is indicated for acute and maintenance treatment of Major Depressive Disorder (MDD), Obsessive Compulsive Disorder (OCD), and Panic Disorder. (Drugs@FDA). It is commercially marketed as tablets, capsules (for sustained release) and solution (discontinued). Crystalline form of the drug shows poor solubility. Hence efforts were made to develop a co crystal which will have increased solubility compared to the crystalline form. Co crystals were prepared using 1,4-dicarboxylic acids (Scott L. Childs et al. 2004). The above figure 9 shows the co crystal formation between fluoxetine and succinic acid. Co crystallization takes place due to hydrogen bond interactions. The formation of co crystal was confirmed with single crystal structure X-Ray diffraction and IR spectroscopy.

Figure 10: Dissolution profile of the co crystals (Scott L. Childs et al. 2004)

From the fig 10 we can see that distinctive dissolution profiles can be achieved through co crystallization. Hence these forms of API's can be used to make alternate formulations.

Amorphous Forms

Celecoxib

CELECOXIB is a nonsteroidal anti-inflammatory drug indicated for Rheumatic arthritis. It acts as a COX2 inhibitor. It is commercially marketed as CELEBREX and is supplied in the form of capsules.

Figure 11: The structure of Celecoxib (Patent No. U.S. 6.964,978, 2005)

The crystalline form of the drug is marketed. However it was found that the higher bioavailability was shown by the amorphous state. The downfall of the amorphous state was its stability. This was due to the structural relaxation which causes devitrification of the celecoxib if stored at room temperature (K. Grzybowska et al. 2010). This was enhanced by mixing it with polymers like PVP, PVP-Meglumine which helped in stabilising the amorphous system (Piyush Gupta et al. 2004, Piyush Gupta et al. 2005). A new solid state form was developed by Pharmacia Corporation and patented (Patent No. U.S. 6.964,978, 2005). The polymer used form a composite with the amorphous form and prevents its conversion to the crystalline form. Crystalline form of the Celecoxib is less pharmaceutically active. The amorphous lactose was prepared from the crystalline one by spray drying techniques with isopropanol. Studies were conducted to check the stability and solubility of the drug- polymer amorphous system (Piyush Gupta et al. 2004). The measurement of the crystalline content, glass transition temperatures and enthalpy relaxation were characterised using DSC. Dissolution and solubility studies were carried out to ceck the release mechanisms. Hence by these techniques the new form of Celecoxib was discovered and an improved formulation was developed.

Simvastatin

Figure 12: The structure of Simvastatin (Kirsten A. Graeser et al. 2008)

Simvastatin is a cholesterol reducing agent belonging to the statin family. It belongs to BCS class II (low solubility but high permeability). It has two known polymorphs, however the second polymorph requires extreme conditions to form and form I is the most known stable form available. Simvastatin is suitable candidate for amorphous form. In one such study the physicochemical properties of two differently prepared amorphous forms were prepared and characterized (Kirsten A. Graeser et al. 2008). The two methods were cryo-milling and quench cooling. In quench cooling the compound was melted in oven and then quench cooled by putting liquid nitrogen on the plate carrying the compound. In cryo milling the compound was ball-milled and the mill was surrounded liquid nitrogen. The amorphous material obtained by two different methods were further characterized by using FT-IR, DSC, High Speed DSC, TGA, XRPD, PLS and SEM.

Figure 13: SEM images of simvastatin (a) crystalline, (b) cryo-milled, (c) 4 °C milled, (d) RT milled, (e) recrystallized cryo-milled, and (f) quench cooled.( Kirsten A. Graeser et al. 2008)

Figure 13 depict the difference in the crystal structre of the amorphous material prepared by different techniques. Accelerated Stability studies were carried out on the amorphous material prepared by two techniques. The cryo- milled amorphous product showed less stability compared to quench cooled product. The logic behind making amorphous form is that it shows more solubility than the crystalline form. Amorphous form has more bioavailability compared to the crystalline form. The main disadvantage of this form is that it has excess of thermodynamic properties hence it tends to recrystallize into its crystalline form. If we are able to keep the amorphous form stable enough till the expiry of the medicine then we can achieve a novel and alternative formulation.