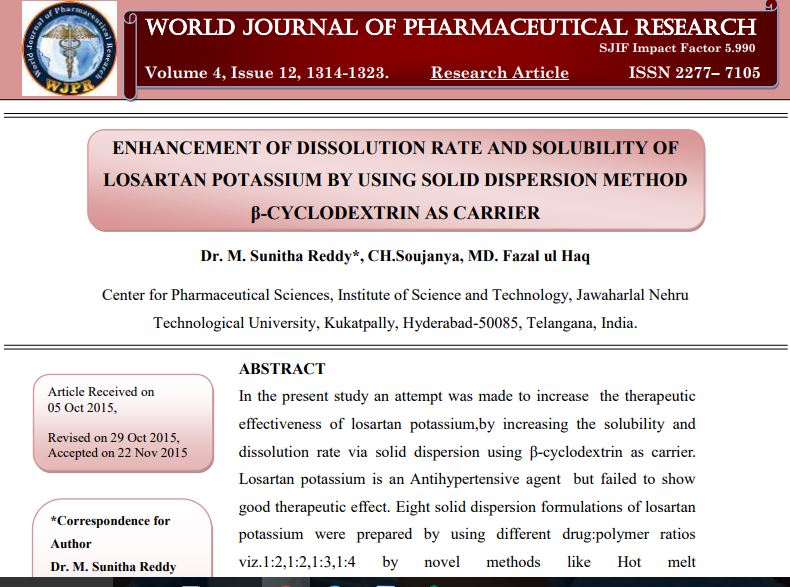 ENHANCEMENT OF DISSOLUTION RATE AND SOLUBILITY OF LOSARTAN POTASSIUM BY USING SOLID DISPERSION METHOD β-CYCLODEXTRIN AS CARRIER
Dr. M. Sunitha Reddy*, CH.Soujanya, MD. Fazal ul Haq
ABSTRACT In the present study an attempt was made to increase the therapeutic effectiveness of losartan potassium,by increasing the solubility and dissolution rate via solid dispersion using β-cyclodextrin as carrier. Losartan potassium is an Antihypertensive agent but failed to show good therapeutic effect. Eight solid dispersion formulations of losartan potassium were prepared by using different drug:polymer ratios viz.1:2,1:2,1:3,1:4 by novel methods like Hot melt extrusion,Lyophilization.prepared solid dispersions were evaluated. The blend of all the formulations showed good flow properties such as angle of repose, bulk density, tapped density. All the solid dispersion formulations were compressed into orodispersible tablets with weight equivalent to losartan potassium of 25mg by direct compression method using 6mm punch on 8 station rotary tablet punching machine. The prepared tablets were evaluated for its hardness, disintegration, weight variation, friability and invitro dissolution studies.The Infra Red spectra revealed that there is no incompatability between the drug and excipients. The prepared tablets were shown good post compression parameters and they passed all the quality control evaluation parameters as per I.P limits. Among all the formulations F4 and F8 formulations showed maximum % drug release i.e.93.83%(Lyophilization), 97.10%(Hot melt extrusion method) within 45min.these are compared with pure drug which shows %drug release58.67%. The optimized formulations were subjected to different kinetic models.the formulations were found to follow zero order release. optimized formulations Were subjected to Accelerated stability study for 3 months according to ICH guidelines.The results found to satisfactory.
Considering all evaluation parameters and % drug release F8 formulation shown better % drug release compared with F4 formulation. hence F8 formulation considered as optimised formulation.
KEYWORDS: Losartan potassium, β-cyclodextrin, solid dispersion, Lyophilization, Hot melt extrusion. FTIR.
CONCLUSION Losartan potassium is belongs to class II drugs, that is, characterized by low solubility and low permeability therefore, the enhancement of its solubility and dissolution profile is  expected to significantly improve its bioavailability and reduce its side effects. The precompression blends of Losartan were characterized with respect to angle of repose, bulk density, tapped density, Carr's index and Hausner's ratio. The precompression blend of all the batches indicates well to fair flowability and compressibility. Among all the formulations F8 formulation, showed good result that is 97.10 % in 45 minutes. As the concentration of polymer increases the drug release was decreased.
Award given by Dr. M Sunitha Reddy Head of the Department, Centre for Pharmaceutical Sciences, Institute of Science &Technology, JNTU-H, Kukatpally, Hyderabad, India
Lifetime achievement award ……..WORLD HEALTH CONGRESS 2017 in Hyderabad, 22 aug 2017 at JNTUH KUKATPALLY. HYDERABAD, TELANGANA, INDIA, Award given by Dr. M Sunitha Reddy Head of the Department, Centre for Pharmaceutical Sciences, Institute of Science &Technology, JNTU-H, Kukatpally, Hyderabad, India