Compound 3aa was obtained as pale yellow oil (163 mg, 92% yield).MS (ESI): mass calcd. for C12H16O3, 208.1099; m/z found, 209.1102 [M+H] + .
1H NMR (CHLOROFORM-d, 400MHz): δ = 7.45 (d, J=7.7 Hz, 2H), 7.33 (t, J=7.5 Hz, 2H), 7.21-7.27 (m, 1H), 4.37 (s, 1H), 4.00-4.18 (m, 2H), 2.97 (d, J=15.9 Hz, 1H), 2.79 (d, J=15.9 Hz, 1H), 1.55 (s, 3H), 1.08-1.18 ppm (m, 3H).
13C NMR (CHLOROFORM-d, 101MHz): δ = 173.1, 147.3, 128.6, 127.3, 124.9, 73.2, 61.4, 46.9, 31.1, 14.4 ppm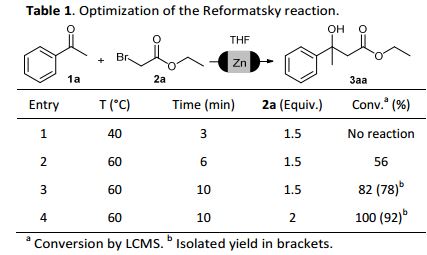 The application of Reformatsky and Blaise reactions for the preparation of a diverse set of valuable intermediates and heterocycles in a one-pot protocol is described. To achieve this goal, a novel green activation protocol for zinc in flow conditions has been developed to introduce this metal efficiently into -bromoacetates. The organozinc compounds were added to a diverse set of ketones and nitriles to obtain a wide range of functional groups and heterocyclic systems in a one pot procedure.
http://pubs.rsc.org/en/Content/ArticleLanding/2016/GC/C6GC02619B?utm_source=feedburner&utm_medium=feed&utm_campaign=Feed%3A+rss%2FGC+%28RSC+-+Green+Chem.+latest+articles%29#!divAbstract
Reformatsky and Blaise Reactions in Flow as a Tool for Drug Discovery. One Pot Diversity Oriented Synthesis of Valuable Intermediates and Heterocycles.
Green Chem., 2016, Accepted Manuscript
DOI: 10.1039/C6GC02619B
////////////Reformatsky, Blaise Reactions ,  Flow chemistry,  Drug Discovery. One Pot,  Diversity Oriented Synthesis, Valuable Intermediates,  Heterocycles.