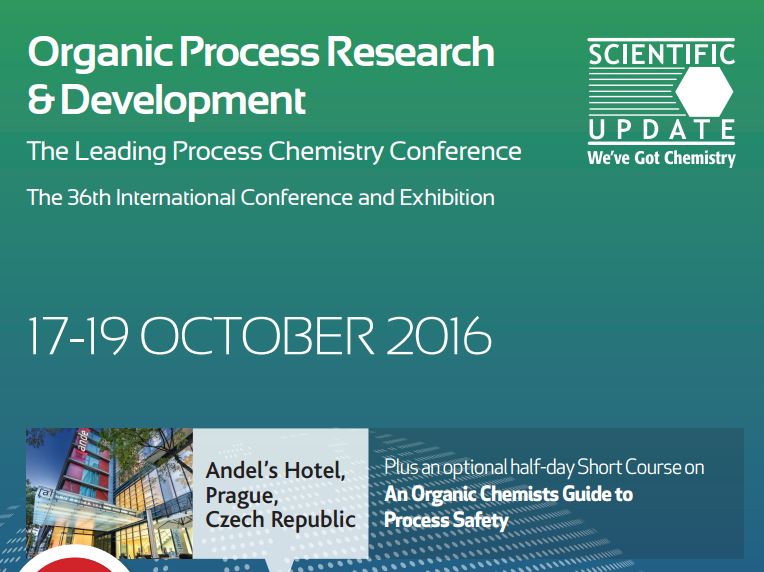 Organic Process Research & Development Conference
17 – 19 October 2016
Andel Hotel, Prague, Czech Republic
The 36th Organic Process Research & Development Conference will consist of presentations from international chemists covering all aspects of Process Development.
The speakers will discuss the latest issues in synthetic route design, development and optimisation, reactor design, work up and purification, crystallisation, catalysis, and quality and regulatory issues.
The presentations will be from either speakers within the chemical industry or academics with a strong link to industrial process development, so the material presented will be of particular relevance to all chemists and biochemists in industry, as well as students considering a career in industry.
See provisional programme and registration costs.
Short Course – An Organic Chemist's Guide to Process Safety?
18 October 2016, 14.00 – 17.00
Speakers include:
Dr David Daniels, Pfizer, UK
Development of a Multi-Kilogram Synthesis of PF-04136309: A Banquet for the Organometallic Chemist
Dr Stefan Mix, Almac Group, UK,
Shortening the Path – Pharmaceutical Materials from Enzymatic Reactions
Dr Antonio Zanotti-Gersoa, Johnson Matthey Catalysis PLC, UK
Homogeneous Hydrogenation Catalysis: Beyond Chiral Applications
Dr Andreas Wachtler, Merck KGaA, Germany
Praziquantel: An Old Product with New Challenges!
Dr Denise Andersen, Gilead Science Inc, USA
Synthesis of Evofosfamide: An Example of Rapid Impurity Identification and Control
Dr Ian Grayson, Evonik Nutrition & care GmbH, Germany
Manufacture of Amino Acids on an Industrial Scale: Development of an Efficient and Sustainable Process
See our website for updated speaker list.
BROCHURE
https://scientificupdate.co.uk/images/eventlist/brochures/8150_su_oprd_conference_brochure_oct_2016_-_prague(v5fw)_1460473621.pdf?utm_source=Scientific+Update+News&utm_campaign=a68b23623d-OPRD_Prague&utm_medium=email&utm_term=0_08c5e1fb69-a68b23623d-78584097
Join a FREE WORKSHOP organized by Johnson Matthey, on Wednesday 19th October during the conference, which will examine both fundamental and applied aspects of homogeneous and heterogeneous catalysis.  Insights into the latest advancements will be covered by their experts.
TESTIMONIALS
"Great venue, good diversity of talks, great networking opportunities." Merck
"Great atmosphere, nice discussions, good presentations."
Boehringer Ingelheim
"Always entertaining and full of useful tips/news."
Sanofi
"Excellent as ever, great venue, organisation and science."
Pfizer
"The lectures are of very high quality, and there is a broad coverage from early to late phase chemical development.  Process Chemists of all experience levels will benefit from attending this conference."
Novartis
Gold Sponsors
Evonik is a global specialty chemicals company with a unique portfolio of products and services for the pharmaceutical industry.
Our mailing address is:
Scientific Update
Maycroft Place
Stone Cross
Mayfield, East SussexTN20 6EW
United Kingdom
Click here to view the brochure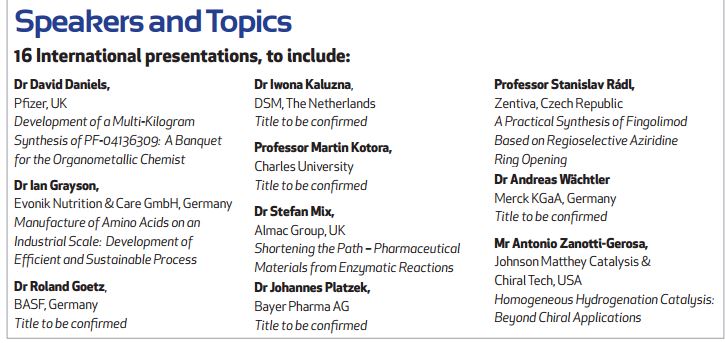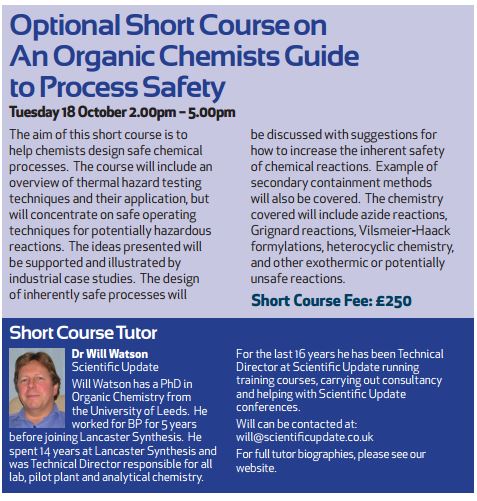 ///////////Organic Process Research & Development Conference, 17 – 19 October 2016, Andel Hotel, Prague, Czech Republic