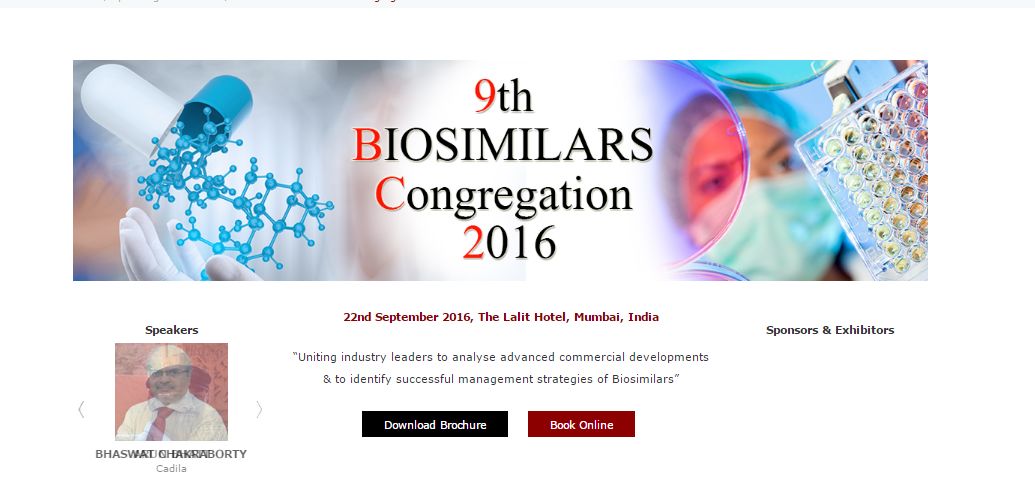 9th Biosimilars Congregation 2016 during 22nd September 2016 Mumbai,  INDIA
22nd September 2016, The Lalit Hotel, Mumbai, India
Link http://www.virtueinsight.com/pharma/9th-Biosimilars-Congregation-2016/
ANINDITA DAS
Dr. Reddy's Laboratories
MANISH VERMA
Sanofi
DEBOLINA PARTAP
Wockhardt
PARIKSHIT CHAUDHARI
Nestle
HANMANT BARKATE
Intas Pharmaceuticals
CONFERENCE INTRODUCTION:-
Virtue Insight invites you to the 9th Biosimilars Congregation 2016 during 22nd September 2016 Mumbai – India. This 9th Biosimilars Congregation 2016 brings together scientists, researchers and CROs from around the world. Biologics are a highly effective class of medicines that are based on naturally occurring proteins and produced using living cells. Current concepts of drugs and biologics, Unique considerations for biologics, Early clinical development essentials, Cancer therapeutics, Comparability for Biologics, Biosimilar approvals are the points of discussion in this session.
9th Biosimilars Congregation 2016 conference will bring together top pharmaceutical, biotechnology and regulatory representatives under one roof that will address the key issues of the industry. Hence, this global event will look at the multiple facets of biosimilars, ranging from the evolving regulatory landscapes, biosimilar guidelines to the legal and economic aspects and current challenges in biosimilar development. This biosimilar conference will focus on multiple aspects of biosimilar product development to successfully deliver safe, biosimilar products to the market place. By attending this biologics conference you will gain a comprehensive outlook on the key issues surrounding biosimilars. This event will provide an important platform for biosimilars stakeholders to discuss and share best practices in expediting development in Biosimilars 2016 and onwards.
KEY THEMES DISCUSSED IN THIS CONFERENCE:-
Global biopharma policy & market trends
The future of biosimilars in India
The evolving biosimilar sector: Trends and Implications
Complex biological models in biosimilar development
Viable extrapolation strategies for biosimilars with special emphasis on TNF antagonists
Effectively communicate the value of biosimilar products to raise confidence in the class
Improving characterization of biosimilars with technology
Create a robust patient services and reimbursement support program for biosimilar products
The future of the biosimilar industry – mapping the evolution and development of the biosimilar sector
Forecasting the financial growth of biosimilars in the global healthcare marketplace
Planning of a biosimilar development project – what to consider from the very beginning
Clinical development strategies for biosimilars
Gaining Better Market Access: Is Commercial CMO Acceptable for the Biosimilars Market?
Regulatory Updates and Development
Be part of a major networking opportunity
WHO WILL YOU MEET:-
CSOs, CMOs, Vice Presidents, Presidents, Heads, Directors, Team Leaders, and Senior Scientists from the following roles:
Biopharmaceuticals/ Biotherapeutics
Follow on Biologics/Follow on Proteins
Biologics/Biotechnology/ Biogenerics
Legal Affairs
Intellectual Property
Health Economics
Pricing and Reimbursement
Clinical Immunology
Principal Scientist
Chief Scientific Officer
Process Control and Analytical Technologies
Analytical Characterisation
Regulatory Compliance
Pharmacovigilance
Drug Safety & Risk Management
Quality Affairs/ Quality Control
New Product Development
Process Science
Portfolio Management
Research & Development
Business Development
Business Operations
Scientific Affairs
Commercial Affairs
WHY SHOULD YOU ATTEND?
Get more from the event, with a broader scope bringing the whole communications value chain together? Enjoy and make the best out of ourdedicated networking drinks time, meet the leading international vendors showcasing the products of tomorrow in the co-located exhibition.Expand your knowledge of the latest business models and strategies in the high-level conference. Whether you are on the branded or generic side, you cannot afford to miss this opportunity to benchmark your tactics and strategies against the industry leaders who will be the first to traverse the pathway. Devise an immediate action plan for your biosimilar prosecution and litigation strategies in light of the barriers to entry, research and development costs, and regulatory hurdles, which are balanced against an enormous potential for increased profit margin
Fen Castro
Head – Productions
Virtue Insight
Tel (India) –       + 91 44 64614333
Mobile (India) –  + 91 9003 26 0693
Tel (UK) –          + 44 2036120886
Fen Castro fen@virtuefirms.com
Cc: Siddhaarth siddhaarth@virtueinsight.co.in
Link http://www.virtueinsight.com/pharma/9th-Biosimilars-Congregation-2016/
//////