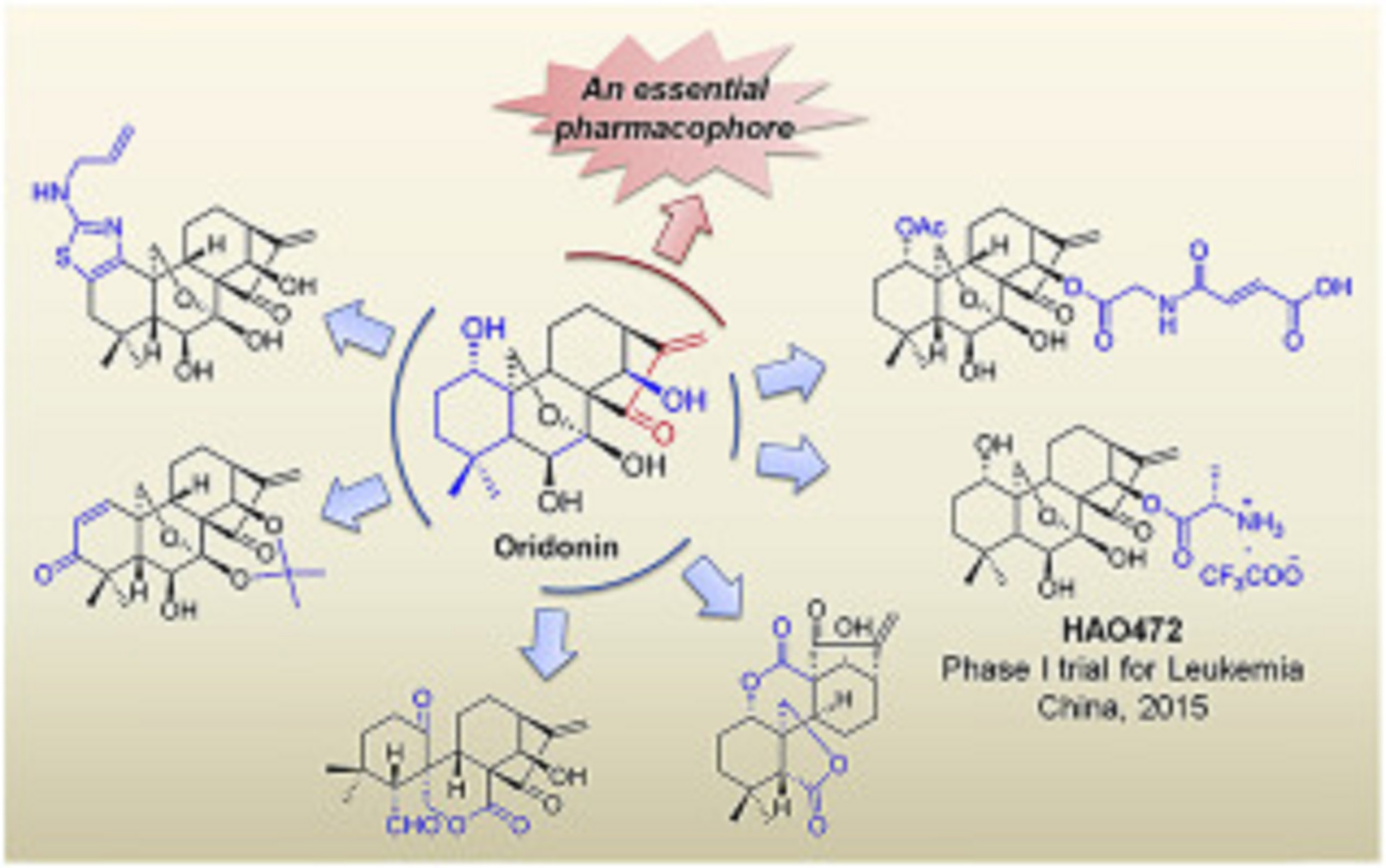 Natural products have historically been, and continue to be, an invaluable source for the discovery of various therapeutic agents. Oridonin, a natural diterpenoid widely applied in traditional Chinese medicines, exhibits a broad range of biological effects including anticancer and anti-inflammatory activities. To further improve its potency, aqueous solubility and bioavailability, the oridonin template serves as an exciting platform for drug discovery to yield better candidates with unique targets and enhanced drug properties. A number of oridonin derivatives (e.g. HAO472) have been designed and synthesized, and have contributed to substantial progress in the identification of new agents and relevant molecular mechanistic studies toward the treatment of human cancers and other diseases. This review summarizes the recent advances in medicinal chemistry on the explorations of novel oridonin analogues as potential anticancer therapeutics, and provides a detailed discussion of future directions for the development and progression of this class of molecules into the clinic.
Highlights
Oridonin displays significant anticancer activities via multi-signaling pathways.
Recent advances in medicinal chemistry of oridonin-like compounds are presented.
The article summarizes the SAR and mechanism studies of relevant drug candidates.
The milestones and future direction of oridonin-based drug discovery are discussed.
Discovery and development of natural product oridonin-inspired anticancer agents
a

Chemical Biology Program, Department of Pharmacology and Toxicology, University of Texas Medical Branch, Galveston, TX, 77555, United States

b

Department of Clinical Cancer Prevention, Division of Cancer Prevention and Population Sciences, The University of Texas MD Anderson Cancer Center, Houston, TX, 77030, United States
////////Natural product, Oridonin, Diterpenoids, Anticancer agents, Drug discovery, Chemical biology,