The synthesis of hydroperoxymethyl oxazoles by oxidation of alkylideneoxazoles with molecular oxygen was implemented in a microstructured reactor for increased safety and larger-scale applications. Elaborate studies on the influence of pressure and temperature were performed, and the apparent activation energy for the oxidation reaction was determined. Elevated temperatures up to 100 °C and pressures up to 18 bar(a) led to a conversion rate of approximately 90% within 4 h of the reaction time, thus displaying the high potential and beneficial effect of using a microreactor setup with liquid recycle loop for this oxidation. The in situ reduction of the generated hydroperoxide functionality shows the capability of this setup for follow-up transformations.
Oxazole–hydroperoxide 3as a colorless solid. Rf (PE/EA 3:1 = 0.31).
1H NMR (30 MHz, CDCl3) δ = 4.98 (s, 2H), 7.12 (s, 1H), 7.49–7.29 (m, 3H), 7.88–7.75 (m, 2H), 10.16 (s, 1H). GC-MS (EI) m/z = 173.1 (M – OH), 144.1 (M – CH2OOH), 116.1 (M – C6H5 + 2H), 89.1.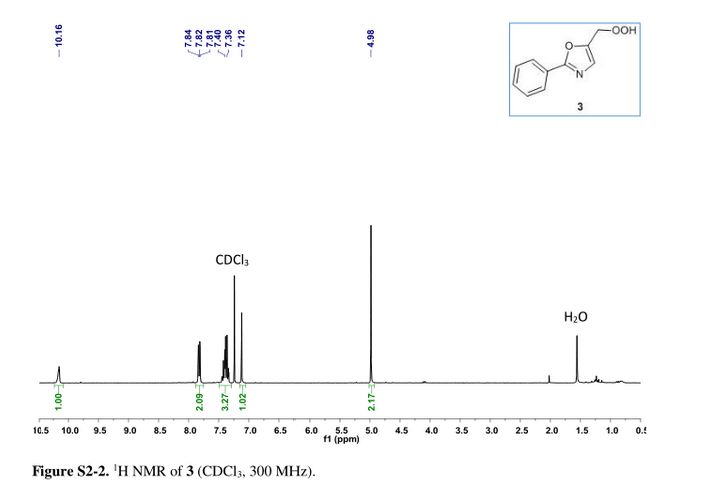 Safe and Fast Flow Synthesis of Functionalized Oxazoles with Molecular Oxygen in a Microstructured Reactor
†
Organisch-Chemisches Institut,
Ruprecht-Karls-Universität Heidelberg
, Im Neuenheimer Feld 270, 69120 Heidelberg,
Germany
‡
Institute of Chemical Process Engineering,
Mannheim University of Applied Sciences
, Paul-Wittsack-Str. 10, 68163 Mannheim,
Germany
§
Chemistry Department, Faculty of Science,
King Abdulaziz University (KAU)
, 21589 Jeddah,
Saudi Arabia
Org. Process Res. Dev., Article ASAP
DOI: 10.1021/acs.oprd.6b00118
Institute of Chemical Process Engineering,
Mannheim University of Applied Sciences
, Paul-Wittsack-Str. 10, 68163 Mannheim,
Germany
Research experience
Sep 2009–present

Professor (Full)

Hochschule Mannheim · Institute of Chemical Process Engineering

Germany · Mannheim

Sep 2005–Aug 2009

Laboratory Head

Novartis · Chemical and Analytical Process Development

Switzerland · Basel

Sep 1999–Aug 2004

PhD Student

Universität Paderborn · Department of Chemistry · Physical Chemistry Prof. Kitzerow

Germany · Paderborn
 Teaching experience
Sep 2009–present

Professor (Full)

Hochschule Mannheim · Institute of Chemical Process Engineering

Germany

Lectures in: Chemical Reaction Engineering Thermodynamic Microreactors & Nanotechnology CFD Practical Course: Chemical Reaction Engineering
Education
Oct 1999–Oct 2004

Universität Paderborn

Physical Chemistry · Dr. rer. nat.

Germany · Paderborn

Sep 1994–Sep 1999

Universität Paderborn

Chemistry · Diplom Chemiker

Germany
Prof. Dr. A. Stephen K. Hashmi
E-Mail hashmi@hashmi.de
/////////Safe and Fast,  Flow Synthesis, Functionalized Oxazoles, Molecular Oxygen, Microstructured Reactor