11-Chloro-1-undecene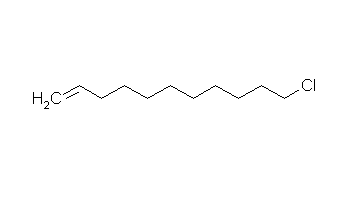 Name
11-Chloro-1-undecene
Synonyms
Name in Chemical Abstracts
1-Undecene, 11-chloro-
CAS No
872-17-3
EINECS No
Molecular formula
C11H21Cl
Molecular mass
188.74
SMILES code
ClCCCCCCCCCC=C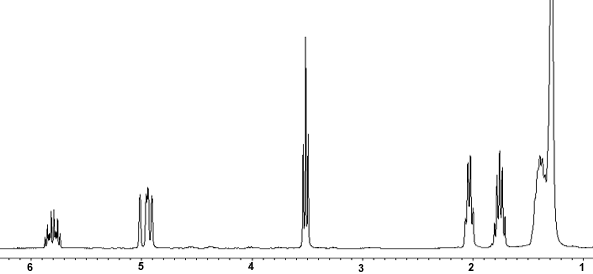 1H-NMR: crude product
300 MHz, CDCl3
delta [ppm]
mult.
atoms
assignment
1.1-1.5
m
12 H
CH2
1.75
tt
2 H
2-H
2.02
dt
2 H
9-H
3.51
t
2 H
1-H
4.95
2xdd
2 H
11-H
5.80
m
1 H
10-H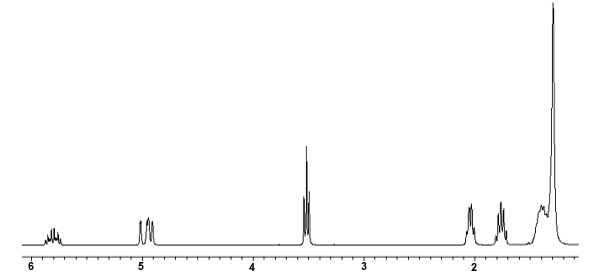 1H-NMR: 11-Chloro-1-undecene
300 MHz, CDCl3
delta [ppm]
mult.
atoms
assignment
1.1-1.5
m
12 H
CH2
1.75
tt
2 H
2-H
2.02
dt
2 H
9-H
3.51
t
2 H
1-H
4.95
2xdd
2 H
11-H
5.80
m
1 H
10-H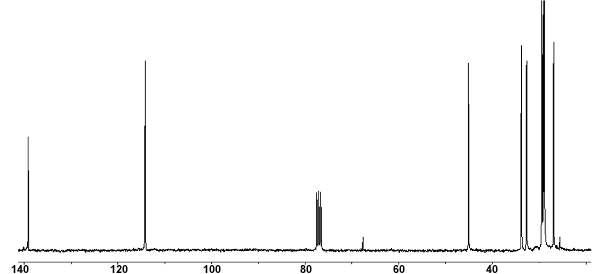 13C-NMR: crude product
75.5 MHz, CDCl3
delta [ppm]
assignment
32.7
C2
33.9
C9
45.0
C1
114.1
C11
139.1
C10
76.5-77.5
CDCl3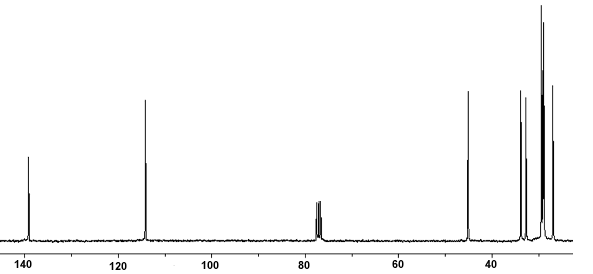 13C-NMR: 11-Chloro-1-undecene
75.5 MHz, CDCl3
delta [ppm]
assignment
32.7
C2
33.9
C9
45.0
C1
114.1
C11
139.1
C10
76.5-77.5
CDCl3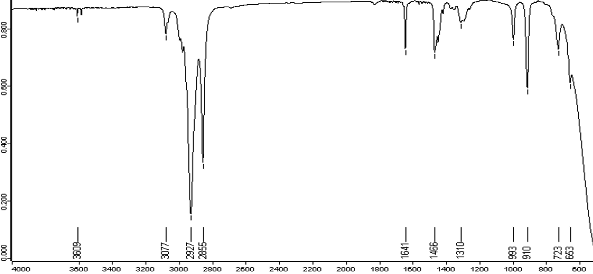 IR: 11-Chloro-1-undecene
[Film, T%, cm-1]
[cm-1]
assignment
3077
aliph. C-H valence, H2C=C
2927, 2855
aliph. C-H valence
993, 910
deform. C-H, H2C=C
723
C-Cl valence
Operating scheme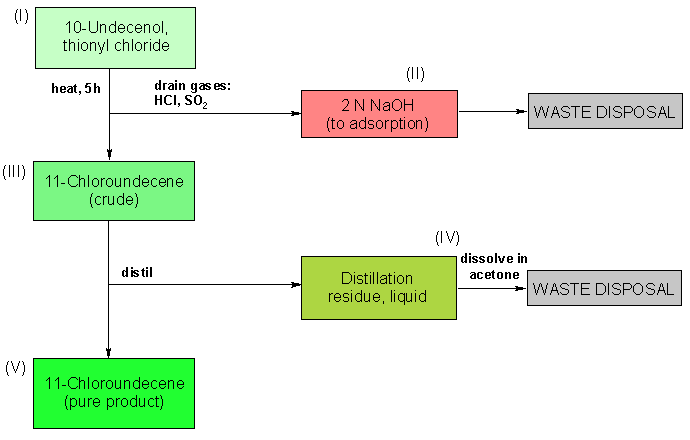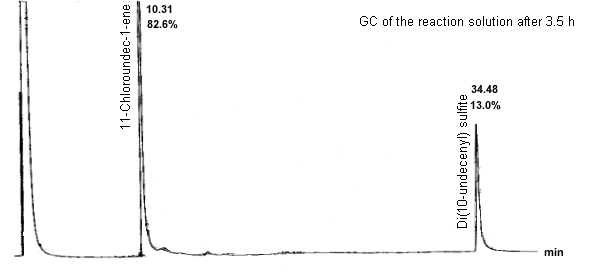 GC: crude product
column
DB-WAX, L=30 m, d=0.33 mm, film=0.25 µm
inlet
on column injection, 0.2 µL
carrier gas
H2, 40 cm/s
oven
90°C (5 min), 10°C/min –> 240°C (30 min)
detector
FID, 270°C
integration
percent concentration calculated from relative peak area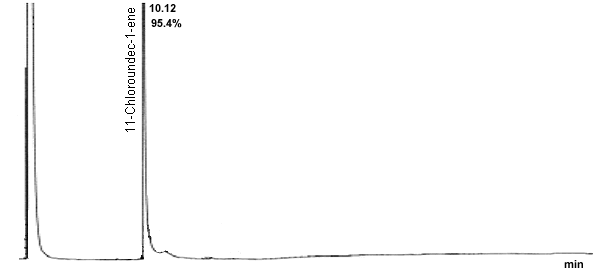 GC: pure product
column
DB-WAX, L=30 m, d=0.33 mm, film=0.25 µm
inlet
on column injection, 0.2 µL
carrier gas
H2, 40 cm/s
oven
90°C (5 min), 10°C/min –> 240°C (30 min)
detector
FID, 270°C
integration
percent concentration calculated from relative peak area
8 must-see places in Southeast Asia for great views: bucket list 2015
Southeast Asia is more than food and culture; here are 8 eye-candy places with magnificent views for a highly memorable trip!
Not just a melting pot of cultures, religions, history and food, Southeast Asia offers many picturesque spots that your eyes will thank you for. Whether it's enjoying a sunset from a mountain top or just taking in the bucolic sights of Mother Nature's hand-sculpted terrains, you'll attest that these 8 suggestions offer some pretty unique charms that take your breath away.
Myanmar has become a hotspot for the intrepid traveller and opens up plenty of opportunities to lap up many of its natural scenic wonders. If you're heading there, a must-see place is Inle Lake renowned for its vast body of water where one can spot fishing communities and homes built on stilts.
Not only is the lake famous for its photogenic quality, you can hire guides to visit fish farms and shop at handicraft stores. Inle Lake's picturesque charm comes from watching leg-rowing fisherman haul their catch during sunset. Find cheap flights to the capital Naypyidaw and best time to travel there is between November and February.
Read more: Top 10 things to do in Myanmar
2. Tiger's Nest Monastery, Bhutan
Perched some 3,000 metres above sea level and build in 1692, Bhutan's Taktsang monastery, or more popularly known as Tiger's Nest, is a must-see when you come to this nation steeped in Buddhist history. Getting there is not for the faint-hearted as one has to traipse through a hilly, rocky and undulating path to reach the peak.
Do hire guides to reach the apex successfully, and you'll be rewarded by 360-views of sylvan mountain tops. Spring time from March to May is the best time to visit Bhutan and Drukair Royal Airlines of Bhutan flies theredirect.
Read more: 5 tips on tipping when travelling in Southeast Asia
3. Mount Kinabalu, Sabah, Malaysia
Recognised as one of the tallest peaks in Southeast Asia, Mount Kinabalu is a trekker's dream come true. Getting to the summit takes about two days to accomplish. There is a 4-km climb to Laban Rata lodge where you can rest and replenish on sustenance. The next day is a 2-km climb to Low's Peak.
The trek may be arduous but with lush rainforest terrain, there's always something new at every corner to keep you distracted. About a kilometer away from the peak, the terrain changes to rock, stone and pebbles complemented by vegetation normally found in cooler climes. To catch the sunrise on the second day, it's advisable to depart at 2am but remember to bring extra clothing as the mercury will drop to 2 degrees Celsius.
Read more: 5 fun extreme sports in Singapore for the adventure seekers
4. Palawan Island, Luzon, Philippines
Recently coined by Huffington Post as "The Most Beautiful Island In the World" while Conde Nast Traveler'sReader Choice Awards named it "The Top Island in the World", Palawan island is quite the magnificent sight. With its beautiful azure waters infused with emerald hues, it's also hard to refute such claims.
Dotting the waters are jungled-filled islands, each with a distinctive hill rising above the ocean. Just by half-hour domestic flight from Manila airport, once you soar above Palawan's oceanic landscape, you'll feel like you've reached Shangri-la. Whether it's island-hopping or sea kayaking, fun-filled times are never in short supply.
Read more: 12 best beaches in Asia Pacific
5. Penang National Park, Malaysia
Penang is truly a foodie paradise but many people are flocking there for other reasons, one being its attractive natural environment. Located just west of mainland Malaysia, a flight from Singapore is slightly over an hour.
With plenty of diverse lifestyle choices and entertainment options, Penang also has its idyllic charms. Aside from its UNESCO-designated George Town, the Penang National Park located on the North-Western side of the island rewards one with rich rainforests, a diverse ecosystem and some 1,381 hectares of wetlands to indulge trekking fanatics and eco-photographers.
Read more: Best cruises from Singapore
6. Tanah Lot Temple, Bali, Indonesia
Bali is never in short supply of mysticism and wonder. A two-hour flight out of Singapore is all it takes to enjoy a short vacation. And of course, visiting its picturesque sea temple on the west coast of Bali, Tanah Lot, promises many Kodak moments. A simple traipse during low-tide rewards a sight to behold too – a Hindu shrine ensconced among lush trees perched on a rock is postcard-worthy from any angle. Framed by crashing waves, Tanah Lot Temple brims with a dab of fable and mysticism that makes it a must-see when visiting Bali!
Read more: Top 5 places to go diving in Southeast Asia
Angkor Wat became even more famous, thanks to the Tomb Raider movie starring Angelina Jolie. Founded in the 12th Century, it is also the 7th Wonder of the World. This Khmer temple's architecture will seize the gaze of any first-time visitor. At the centre of this city, within a moat, is a towering stupa that provides sylvan views of its 3.6km, vine-covered outer wall. Just 5.5km north of Siem Reap, the Angkor Archaeological Park is a must-see for travellers with a penchant for history and artefacts.
Read more: Top 10 most romantic places in Asia (part 2)
8. Halong Bay, Hanoi, Vietnam
Halong Bay, which means "Bay of Descending Dragons", is a unique karst topography carved out by Mother Nature. The UNESCO World Heritage site offers views of vertical formations which are rich in dense vegetation. A boat cruise meandering through any of the 1,969 islets is both tranquil and insightful. Avoid the monsoons from June to September and from January to March, but visit the high seasons to enjoy sunny skies that won't put a damper on your exploration plans of the natural outlying islets. After a three-hour fight to Hanoi from Singapore, take a five-hour road trip via mini bus to the port; it costs around USD 6 (SGD 7.50) and can be arranged upon arrival.
Read more: Top 10 most romantic places in Asia (part 1)
All these places will astound you in a multi-sensory way. Whichever activity you decide to experience at these destinations, you'll agree that many good memories await.
Join me on Linkedin

Join me on Facebook 
FACEBOOK
Join me on twitter

Join me on google plus 
Googleplus

 amcrasto@gmail.com
///////////