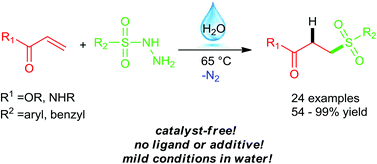 Green Chem., 2014, Advance Article
DOI: 10.1039/C4GC00932K, Communication
a
Hefei National Laboratory for Physical Sciences at Microscale, CAS Key Laboratory of Soft Matter Chemistry & Collaborative Innovation Center of Suzhou Nano Science and Technology, University of Science and Technology of China, Hefei, P. R. China
E-mail: 
zwang3@ustc.edu.cn
;
Fax: 
(+86) 551-360-3185
Green Chem., 2014, Advance Article
DOI: 10.1039/C4GC00932K
A catalyst-free sulfonylation of activated alkenes developed under mild conditions in water.
A catalyst-free sulfonylation reaction of activated alkenes with sulfonyl hydrazides was efficiently developed under mild and environmentally benign conditions, in water without any ligand or additive. The reaction gave a range of structurally diverse mono-substituted ethyl sulfones with excellent yields, in which the by-product was nitrogen.